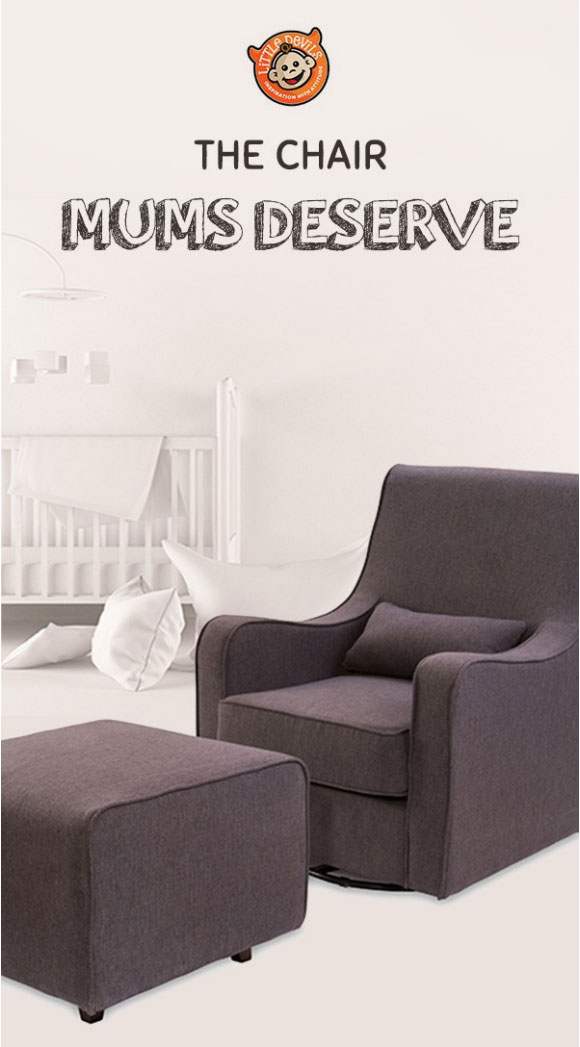 When you're caring for your brand new little bundle of joy, you'll find yourself spending a lot of time in the nursery. So with that in mind you'll be wanting some comfortable yet stylish furniture for the room, in particular you'll be thinking of purchasing a nursing chair. As parents spend more and more time with their bouncing baby, nursing chairs have grown in popularity and are certainly becoming the main focus of modern day nurseries.
So in order to meet the growing demands, Little Devils Direct have released their brand new nursery range – Hush Hush. After listening closely to the wants and needs of new parents. The Hush Hush 360 chair has been designed to incorporate & combine modern functional design with ergonomic performance.
The Hush Hush 360 really does stand out from the crowd and the rest of the marketplace. The swivel and glide functions combine perfectly with the extra width, high back curvature & ergonomic arm height to provide mothers and fathers with the best and most spacious gliding piece of furniture yet.
The wide choice of colours and fabrics mean that the chair can be customised in any way to meet the needs of new parents. The combination of perfect craftsmanship and high-end upholstery provide new mums & dads with a stylish piece of furniture that blends right in with the interior décor of most modern homes.
Nursing mums spend a great deal of time in their feeding chair, so comfort, support & freedom of movement are major factors that have to be considered. The Hush Hush 360 is the ultimate practical and functional chair that looks inviting to sit on as well as providing the feel of high quality Italian design without the incredible price tag – it's the perfect solution for those long sleepless nights and never ending feeding sessions.
The Hush Hush 360 is very durable and provides a lovely layer of luxurious padding, which combined with the rotating feature & matching footstool gives parents the perfect opportunity to use their little one's nursery as an extension of their style and encompass the space into the same interior décor as the rest of the home.